There will be some skin stretching with breast implant placement. Once implants have been removed, some skin retraction is to be expected. Depending on the size of the implants, this natural retraction may be sufficient to restore a firm look to the breasts. When this does not happen, a breast lift is certainly a viable option.
Why Remove Breast Implants?
There are several reasons a woman may choose to remove her breast implants. Changes in aesthetic desires play a role. So too do issues such as breast implant rupture, shifting, or failure. Medical issues, such as capsular contracture, may also prompt the removal of breast implants.
Breast implant illness is another reason women may choose to have breast implants removed. BII is not fully understood, but may come with diverse symptoms including brain fog, sleep disturbances, dry skin, hair loss, and joint pain. If you suspect you have BII, implant removal combined with capsulectomy may be the best solution. During your initial consultation at our North Andover or Nashua office, Dr. Chatson will listen carefully to your concerns and help you determine the best path forward.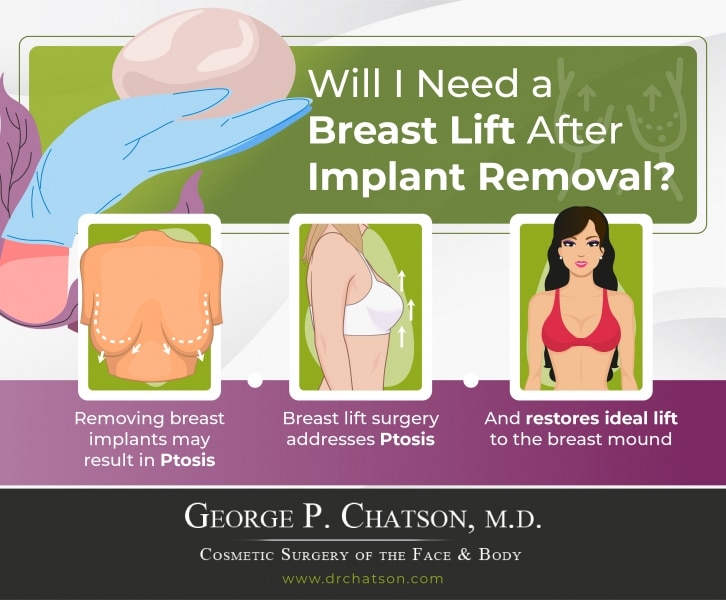 Why Consider a Breast Lift?
Breast lift surgery addresses ptosis (sagging tissue) and nipple placement, helping to restore a firm, perky, and youthful look to the breasts. Following breast implant removal, sagging skin may be inevitable, particularly if the implants being removed are larger. Breast lift eliminates this excess skin to return the breast mound to its most attractive state.
Breast lift surgery is safe and effective following breast implant removal – even in cases of breast implant illness – and can help to correct issues left by your initial augmentation. It can even be performed at the same time as implant removal in most cases. Dr. Chatson can discuss this option in greater detail during your initial consultation.
Please call our North Andover office at 978-687-1151 or our Nashua office at 603-882-2103 to schedule an appointment to learn more.